Thursday, October 29, 2009 • announce, DEAF • 0 comments
We'll have a more extensive post about our own gig shortly - last Sunday in Filmbase was great craic...pictures, video and audio coming soon. For now we just want to mention a couple of gigs happening this weekend that might be of interest to those of you who don't know about them already.
Thursday:
Kaboogie's
fortnightly and free night in Thomas House, the K-Club, will feature
Scurvy Lass
,
Force
Fed
and the first show for a while from
Lakker
. That's from 8-11.30PM.
After that down the road in the Sycamore Club
Alphabet Set
will be hosting another quality line-up including
Sunken Foal
,
Sarsparilla
,
Cignol
,
Jimmy Penguin
and
Ventolyn & Becotyde
,
Love Rhino
,
Laura Sheeran
and
Solen
. A very reasonable €6 before 12, €8 after.
Alternatively, if you're in the mood for more dancefloor oriented music,
Takeover Recordings
, Nice & Nasty and Static Recordings will be taking over Pygmalion on South William Street from 6-2.30PM with a big line up of electro and techno acts on the 3 label's rosters. More info can be found
here
.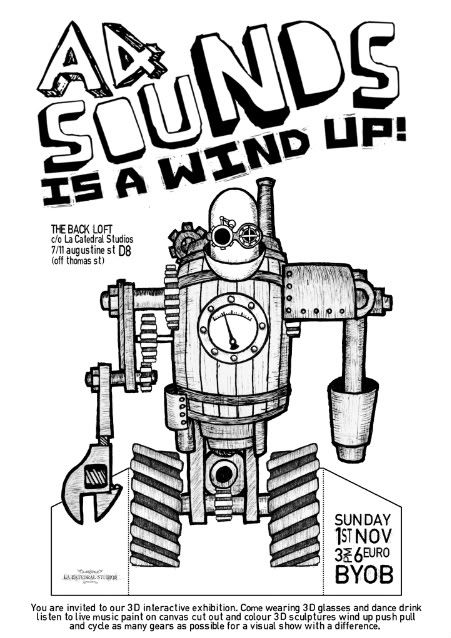 Friday:
It's got to be !kaboogie again on Friday with London bass wizard
ScanOne
in Twisted Pepper, with support from one half of Lakker
Eomac
and a liveset from
16 Hertz
&
Johnny Oakley
.
Sunday:
A4 Sounds
take over the Back Loft gallery for the afternoon with an installation / gig / social experiment involving wind-up sculptures, live audience participation painting and sets from
Gland & Conduit
, Scurvy Lass,
Junior 85
and a rare performance by
Boondoggle/Bluebottle Farm
and
Vanessa Parody
. A4 gigs are always memorable (and usually messy), and we're guessing major fun and surreality will be the order of the day Sunday. The perfect way to end the Hallowe'en / DEAF era and await the Christmas marketing fever that will follow...